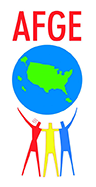 WBI and AFGE have a long-standing relationship. Retired AFGE national officer Carol Fehner first introduced us to her union. Carol, through retired, still provides District 12 region training. In the early years we made presentations and workshops at national conferences.
At the 2016 AFGE Human Rights Training Conference, Gary Namie delivered the WBI Workplace Bullying University®, the 3-day training tailored for union reps to ensure that members bullied by agency managers are helped by knowledgeable union sisters and brothers. The HRTC conference lasted a week. The three days of material were spread over four days. Originally, 35 members committed to attend the entire program. On Day 1, enrollment swelled to 55. Reps came from all over the country. It was a well attended and important event.
Participants left the training with 10 discs of resources and materials to share with their respective locals. Kudos to HRTC organizers who budgeted the training for so many members.
We repeated the University training at the 2017 AFGE HRTC in Puerto Rico for 60 members just weeks before devastating hurricane Maria destroyed the island.